OFTEC webinars
The Covid-19 has made us all far more comfortable with learning online from the comfort of our own homes. And given the nature of our industry - off grid heating - it perhaps makes even more sense to offer events online. After all, we have registered technicians from Cornwall to John O'Groats and beyond, so it's always been very tricky to host events that are local for more than 40 or 50 technicians. So far, we've completed a series of three webinars on the topic of renewable heating, with a particular focus on heat pumps and on how to become fully registered for OFTEC's Microgeneration Certification Scheme (MCS). 
We're hoping these will be the first of many, so make sure you look out for details in your monthly E-News or check this page regularly for details.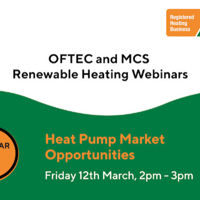 March 2021
| Online
The first in our series of joint renewable heating webinars with MCS (the Microgeneration Certification Scheme). Webinar one looks at heat pump deployment to date, as well as the opportunities that government heat policy will generate. There is a target for the number of heat pump installs to increase from 30,000 per year to 600,000 per year by 2028 - this is a massive increase and there are currently simply not enough heat pump installers to achieve this. Watch the webinar to find out whether you could become a heat pump installer. Featuring Matt Aylott the Electrification of Heat Lead at BEIS, Alex Hughes the MCS Operations Analyst, Malcolm Farrow, OFTEC's Head of Public Affairs and David Cowdrey, MCS's Director of External Affairs.
Full details
---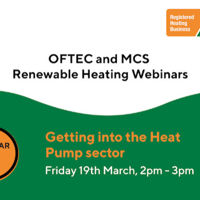 March 2021
| Online
Ian Rippin from MCS, Adrian Lightwood and Jonathan King from OFTEC answer all your questions about registering with MCS - the application process, the requirements of registration plus maintaining registration on a day to day basis. The event is compered by Nathan Van Gambling who hosts the Betatalk podcast.
Full details
---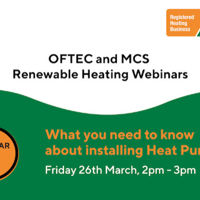 March 2021
| Online
Our final webinar offers practical guidance by a professional heat pump technician, footage of real-life installs and covers the key points to look out for, and valuable tips of the trade. The hour-long session will include a Q&A on both air source and ground source heat pumps.
Full details
---