OFTEC has announced three new appointments to its technical and inspection teams as the trade association continues to strengthen its off-grid services for technicians working across liquid fuel, solid fuel and renewable heating technologies.
Kevin Steadman joins OFTEC as Lead Technical Officer with a wealth of industry knowledge and 25 years of OFTEC registration under his belt. During his extensive career, Kevin worked for Scottish Fuels, BP, GB Oils and Certas Energy. His most recent role was an Engineer Supervisor for Certas.
Kevin holds the full suite of OFTEC liquid fuel certifications alongside commercial gas and Part P electrical qualifications. He also has a Higher National Certificate/Diploma in Electrical/Mechanical Engineering
In his new role with OFTEC, Kevin will support homeowners and registered technicians with enquiries relating to installations, regulations, standards and best practice, and contribute to the development of new technical publications.
OFTEC has also appointed John Vinter as Inspection Services Manager. John has been in the heating industry for 43 years and has led quality assurance audits for a major contractor supplying labour for British Gas which has resulted in enhanced safety procedures and higher standards of practice within the industry.
John will head up and further expand OFTEC's inspection team which is responsible for ensuring the work of OFTEC registered businesses continues to comply with the highest industry standards. As well as working in OFTEC's main office in Suffolk, John will continue to support local inspectors out in the field.
In a third appointment, OFTEC has welcomed Andrew Borland as a Regional Inspector for Scotland. Andrew joins the team with extensive expertise across commercial and domestic oil and gas installations, repairs and servicing, as well as auditing for both the private sector and social housing contracts.
Working on the ground across Scotland, Andrew will help to maintain the high standards of professionalism and safety consumers expect from OFTEC technicians. He will also draw on his specialist renewable energy knowledge to support technicians moving into this sector.
Commenting on the new appointments Paul Rose, CEO of OFTEC, said: "I am very pleased to welcome Kevin, John and Andrew to OFTEC and their combined expertise and hands on industry experience will prove invaluable.
"We are continuing to invest in and grow our team so we can increase the dedicated, long term support we provide to our technicians working across the off-grid sector from liquid fuels to renewables, helping them go from strength to strength both now and in the future.
"As we focus on delivering a renewable liquid fuel replacement for oil heated households in the UK, it is essential we uphold the highest standards of technical and professional support right across the off-grid heating sector."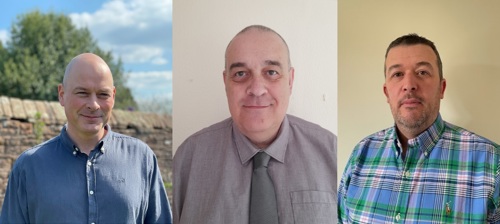 L-R New appointments at OFTEC: Kevin Steadman, Lead Technical Officer, John Vinter, Inspection Services Manager, Andrew Borland, Regional Inspector for Scotland