Why you should choose an OFTEC registered technician
Finding a trustworthy and reliable business to install or service heating equipment used to be a challenge. That changed in 2002 when the British government officially recognised 'competent person schemes' for a range of building trades including heating. OFTEC's registration scheme for heating technicians was the first to be formally recognised as a competent person scheme and we now operate in the UK and the Republic of Ireland.
OFTEC's competent person scheme is a register of technicians employed by oil, solid fuel and renewable heating businesses. We also offer registration for technicians who hold Part P electrical qualifications and for those who install energy efficiency measures under PAS2030. To become OFTEC registered, all technicians must first undertake an approved training course and assessment. They are inspected regularly by OFTEC to ensure their work meets the required standard and the business they work for must also pass an audit.
What does 'competent person' mean?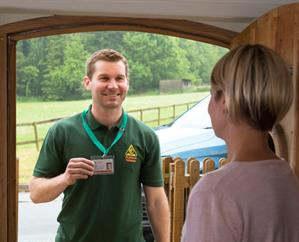 A heating installer registered with OFTEC carries out their work in accordance with the building regulations and approved industry standards of the country in which they are based. In England, Wales, the Channel Isles and Isle of Man, they are authorised to self-certify that their installation work complies with the regulations without needing to submit a building control notice. This means that a site inspection by a local council building control officer, or a private approved building inspector, is not required, saving you time and money.
The servicing and repair of heating equipment is not covered under building regulations, but should always be done by a competent person. OFTEC registered servicing businesses follow a set of procedures that are designed to ensure that all aspects of your heating system are checked and maintained in accordance with industry and manufacturers' approved standards.
The benefits for you
Regardless of where you live, selecting an OFTEC registered business offers the peace of mind of knowing that any installation or maintenance work will be done by a competent technician who has been trained and inspected, rather than by someone who may be untrained and potentially incompetent. Work that is self-certified benefits from OFTEC's free workmanship warranty, which means you will avoid problems in the unlikely event that the work does not comply with the building regulations.
Employing an OFTEC registered business for the installation and maintenance of your heating equipment is the best way to ensure that your system will continue to run safely and efficiently.
Read more about accredited competent persons schemes on the Competent Persons Scheme website.