OFTEC and MCS renewable heating webinars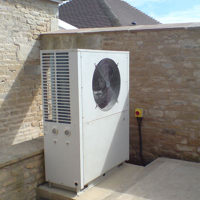 Ever thought about working with heat pumps or other renewable heating systems? Heat pumps are currently government's preferred option in heat policy designed to reduce carbon emissions from homes and there are ambitious aims to install 600,000 heat pumps every year from 2028 in the UK which is a huge business opportunity for heat pump installers.
Along with MCS (the microgeneration certification scheme) we've published a series of three webinars looking at the opportunities available and outlining plans for a new streamlined route to certification.
Plus, an experienced heat pump installer takes you through the installation process and answer any questions you may have about heat pumps, installation and what's required to meet MCS requirements on a day to day basis.
Each one was around an hour - and all three are now available to watch in our webinars section. 
Watch our intro video here:
Who can attend?
The webinars were open to all OFTEC registered businesses and technicians
Who should take part?
Those looking for new opportunities for their businesses
Those wanting more information about how to gain heat pump, solar thermal or biomass installer certification
Those wanting to find out more about the technology from other heat pump installers
How much will it cost?
The events are completely free
What will I learn?
An insight into the heat pump market and policies that are expected to create a surge in demand for renewables
The routes to MCS registration (including details of a new route to registration designed to support smaller businesses)
The support schemes for heat pump training and certification
An experienced heat pump technician will provide demonstrations, tips of the trade and key points to look out for.
Registering for MCS
If you've watched our webinars and are now feeling ready to expand your business into renewables. You can a list of OFTEC approved training centre running renewables courses here.  You'll also find lots more information about registering for renewables with OFTEC and an online application on our registration pages.